Newer, Optimized Design
Faster, Safer, Easier with Voice Search included free
Windows Classic Pro
Using the latest windows
Sets up in minutes
All-in-one design simplifies wires and set-up
Free upgrade to
Voice Search
Lifetime virus
Protection Included
Big, bold easy to
Read text
foolproof design resets automatically
One-step Internet
and Email
full Edge to edge
Screen view
Highest level of ID protection included
Spell-check built-in
Large Print Beginner Manual
Wired and/or Wireless Internet Connections
Works with any Printer
Add any program
Watch Netflix's
CD/DVD Player/Recorder

Webcam with Skype
Full office suite with Word Processor included
10 Bonus Games
U.S. based Support

Maintenance free

6 Months Interest Free with PayPal Credit Checkout

The support she used was great and I used it for her a couple of times. You have a great offering and make it all so easy. I have recommended to several people and think I will get one for myself next year. Mom is almost 92 and loves your computer.
Karen, Royalston, MA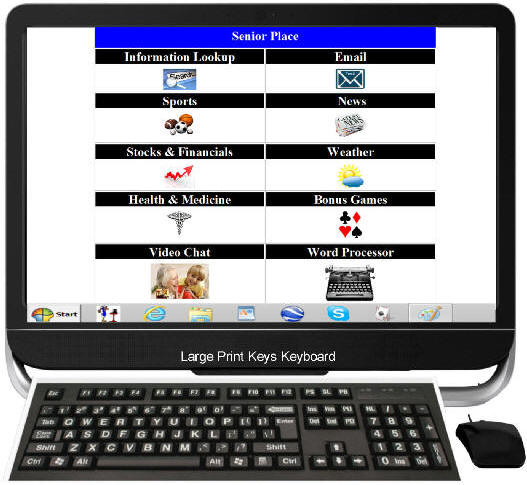 15.6" & 17.3" HD
Laptops for Seniors
Touch and non-Touch Screens available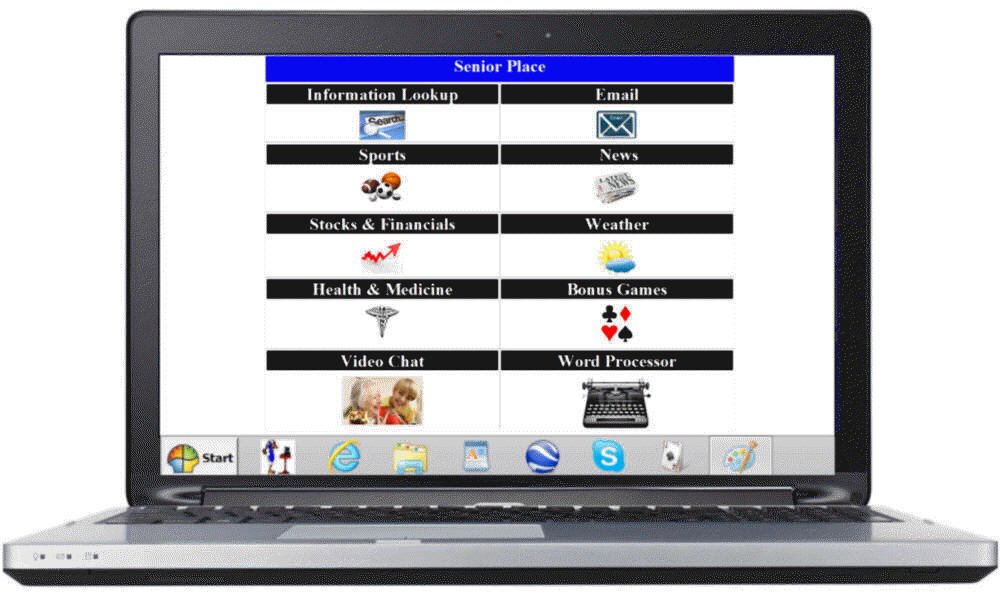 Tired of your old, worn-out, slow computer? A Plus computers are fast, efficient, self-maintaining computers that won't slow down or wear out, included with
the purchase price is free lifetime computer tune-ups to ensure you're
always running at tip-top performance.

Huge TV Sized 27" Non-touch Screen
Huge 27" HD Screen
$1699.00
All models now include a
free upgrade with

"VOICE SEARCH"
You can now ask your search questions without having to type. All A Plus Computers are already programmed and ready for Voice Search!
(Free Microphone and simple instructions included)



Ends Next Week!

Large 20" All-in-one Desktop
$899.00

Gigantic 23" All-in-one Touch-Screen!
$1299.00

15.6" Travel Laptop
$599.00
Large 20" All-in-one
Touch-Screen!
$999.00
Hugh 27" HD
All-in-one Desktop
$1699.00
Compared to the WOW and Telikin computer, the A Plus Computers' for seniors are twice as fast with double the memory, use a full screen for optimal viewing plus dozens of features you simply don't get with the other senior computers.
"Not much I can add to the fine reviews to which I fully agree only to say that the A Plus is not just for seniors but at the age of 95 I have had three computers prior to the A Plus and have finally been completely satisfied. I recommend it for all ages wholeheartedly. The Tech support, to put it mildly, is superb." Bob, Doylestown, Pa
Money Back
Guaranteed


Try the A Plus computer for seniors risk free for 30 days and if you're not completely satisfied, return it for a full refund
You do an amazing jobs with us seniors. I know I'm hard of hearing and I really appreciate that your staff speaks loud and clearly for me to understand. It's greatly appreciated.
Dennis, Yuma, AZ