Order by Noon
Ships same-day

Gigantic 24" Deluxe HD
All-in-one Desktop
Touch-Screen


Gigantic 24" HD
All-in-one Desktop


Large 20" Premium HD
All-in-one Desktop
Touch-Screen

Large 20" HD
All-in-one Desktop
17.3" HD Studio Laptop
Touch-Screen


17.3" HD Studio Laptop


15.6" HD Laptop
Touch-Screen

15.6" HD Travel Laptop
100% Money Back
Guaranteed


Try the A Plus computer for seniors risk free for 30 days and if you're not completely satisfied, return it for a full refund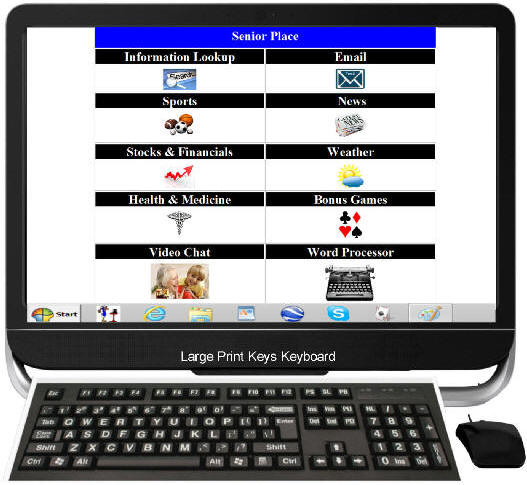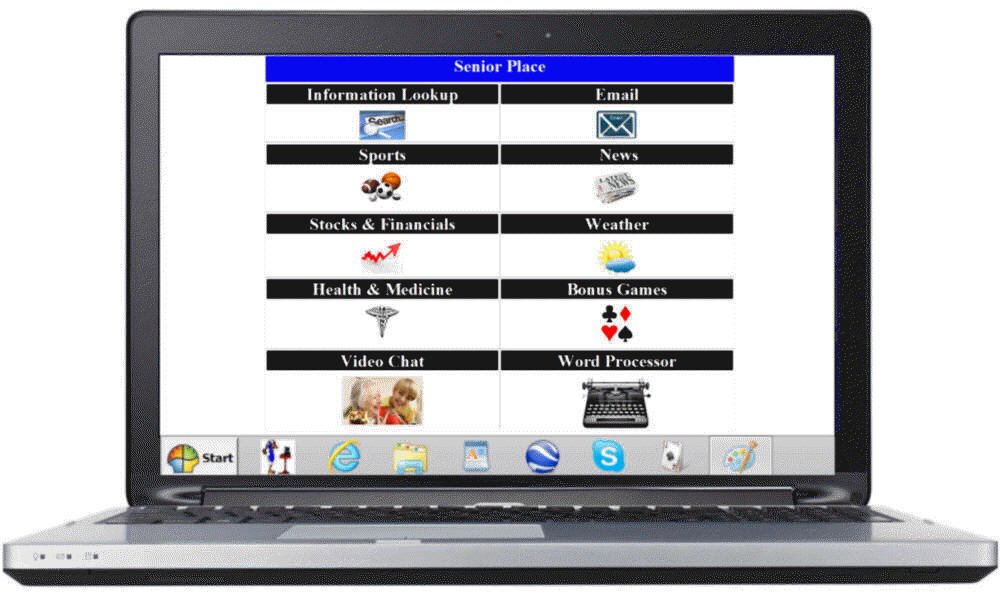 All A Plus Computer
Models Includes


Easy Email and Internet
with Senior Place

Big, bold easy-to-Read text

Completely Maintenance free
Ready to go out of the box
Powered by
Windows Classic Pro
Lifetime Anti-virus
U.S. Support
In plain, Simply English
Full Edge to edge
Screen view

Voice Search included
Spell check built-in
Large Print Beginner's Manual Computer 101
Works with any Printer,
Program or device

Wired and/or Wireless
Internet Connection
Watch Netflix
CD/DVD Player/Recorder

Webcam with Skype
10 Bonus Games
Office suite with Word Processor/spreadsheet

A Plus Senior Computers programmed with
"VOICE SEARCH"!
Search the entire Internet without having to type a single word. Simply ask a question for a quick answer.
A Plus Computers for seniors are completely setup and ready to go with easy access to popular features like Email, Internet, games, word processing and video chat with the most common tasks all neatly organized in our exclusive Senior Place so you'll always know where to go and where you've been. The A Plus unique Windows Classic Pro design is perfect for seniors looking for a simple, maintenance free computer that's fully protected and truly easy to use. Seniors jump right in without a single lesson, using easy to recognize icons seniors see every day.
Of course easy doesn't mean you have to give up features. The A Plus computer for seniors starts you off with an easy design of popular features every senior uses, as you progress you always have the option to expand your A Plus to fit your own individual needs. Add a favorite game or two, use any printer, import and edit your digital pictures, make your own music or video DVD's, watch Netflix, create your own greeting cards or build your family tree. You can do as much or as little as you want. Unlike other computers for seniors, the A Plus does it all! You can even use your current Email address or create a new one. You'll never outgrow your A Plus!
"At 84 my father is pretty set in his way, but I knew if I could get him an easy computer to use in assisted living it would open doors for him. He took to the A Plus 17" laptop immediately, I knew I had made the right decision. Your staff has been great and you have a real talent working with seniors." Carol, Salt Lake City, UT
"You do an amazing jobs with us seniors. I know I'm hard of hearing and I really appreciate that your staff speaks loud and clearly for me to understand. It's greatly appreciated." Dennis, Yuma, AZ
"Your staff has been incredibly helpful, I can't thank you enough. It's a real pleasure working with everyone" William, Orange, MA

"I just purchase your A Plus Computer for my 94 year old mother. I went over to set it up only to find out that it really is ready to go right out of the box. What a great design and I say that being in the computer industry for the last 30 years. Kudos! Jennifer, Rothbury, MI
"Thank you from my entire family for changing my mom's life. She is so happy now. She can't wait to talk to me and see me at the same time (via Skype). She even asked if I could take her on a tour of my house with my computer... She has so much to look forward to. You have opened up a whole new world for her. Thank you from the bottom of my heart." Leigh-Ann, Graham, WA
"I haven't had A Plus for a full 3 days yet, and i love it more than any machine i have ever been on. thank you very much, i am pretty much worry free phew!" Lawrence, Pittsfield, MA

"Not much I can add to the fine reviews to which I fully agree only to say that the A Plus is not just for seniors but at the age of 95 I have had three computers prior to the A Plus and have finally been completely satisfied. I recommend it for all ages wholeheartedly. The Tech support, to put it mildly, is superb." Bob, Doylestown, Pa
computers for seniors
computers for seniors
Select a model that best fits your lifestyle. No one size fits all here. From our gigantic touch-screens, the popular all-in-one (no tower) desktops, or perhaps a portable laptop model you can take on vacation or to that favorite chair, we have a model for you.