All A Plus Computer
Models Includes
Big, bold easy-to-Read text
Lifetime Anti-virus
Easy Email and Internet
with Senior Place


Completely Maintenance free
Ready to go out of the box
U.S. Support
In plain, Simply English
Full Edge to edge
Screen view

Voice Search included
Spell check built-in
Large Print Beginner's Manual Computer 101
Wired and/or Wireless
Internet Connection
Works with any Printer,
Program or device
Watch Netflix
CD/DVD Player/Recorder

Webcam with Skype
10 Bonus Games
Office suite with Word Processor/spreadsheet
FREE shipping!
Order by Noon
Ships same-day

A Plus Senior Computers are fully feature and twice as fast with double the memory, use a full screen for optimal viewing plus dozens of features you simply don't get with any other Linux based computer for seniors.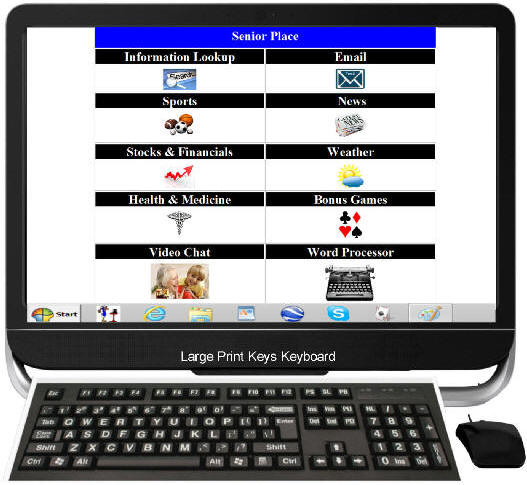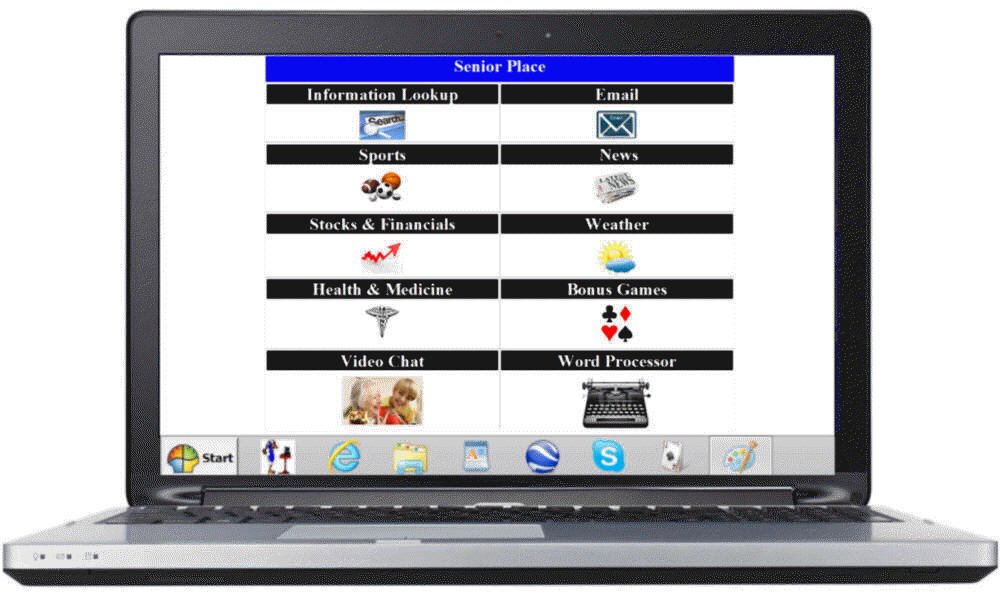 Thank you from my entire family for changing my mom's life. She is so happy now. She can't wait to talk to me and see me at the same time (via Skype). She even asked if I could take her on a tour of my house with my computer... She has so much to look forward to. You have opened up a whole new world for her.
Thank you from the bottom of my heart." Leigh-Ann, Graham, WA
"I really just love my new computer. I was struggling with my old one for way too long and now I know that starting off with the right computer makes all the difference in the world. Many thanks." Ellie, Hudson, FL
"My wife and I love the A Plus Computer so far and we just got it. This is the easiest user friendly computer I have ever seen. Thank everyone in your company." Paul, Monroe, MI
"Love my A Plus computer and my son was so impressed he ordered one as well for his office. Great design." Dan, Oriental, OR
"Your staff has been incredibly helpful, I can't thank you enough. It's a real pleasure working with everyone" William, Orange, MA

"I just purchase your A Plus Computer for my 94 year old mother. I went over to set it up only to find out that it really is ready to go right out of the box. What a great design and I say that being in the computer industry for the last 30 years. Kudos! Jennifer, Rothbury, MI
Featured Models

15.6" Travel Laptop
$599.00
15.6" Laptop
Touch-Screen
$799.00
17.3" Studio Laptop
Touch-Screen
$1099.00
Large 20" HD
All-in-one Desktop
$799.00

Gigantic 24" HD
All-in-one Desktop
$999.00
Money Back
Guaranteed


Try the A Plus computer for seniors risk free for 30 days and if you're not completely satisfied, return it for a full refund
A Plus Senior Computers programmed with
"VOICE SEARCH"!
Search the entire Internet without having to type a single word. Simply ask a question for a quick answer.
Let's face it, no senior wants to "learn" the computer, they simply want an easy way to email family and friends, play games for mental exercise, explore the web, type a letter or video chat with the grandkids.
A Plus computers are designed as an easy way for seniors to enjoy the Internet without having to learn the computer. Ready to go right out of the box, easy-to-use, easy to see, maintenance free, with plenty of speed and storage. Designed with everything in one easy to use "Senior Place" using icons seniors see every day so you'll always know where you are and never get lost. Plus every A Plus computer includes lifetime protection against viruses so you're always safe. Everything is in one unit (no separate tower) for a clean, organized look.
Just plug it in and go!