Newer, Optimized Design
Faster, Safer, Easier
Windows Classic Pro
Using the latest windows
Sets up in minutes
Lifetime virus
Protection Included
Big, bold easy
Read text
foolproof design resets automatically
One-step Internet
and Email
full Edge to edge
Screen view
Highest level of ID protection included
Free Lifetime Computer Tune-up for tip-top performance
Spell-check built-in
Printed Beginner Manual
Wired and Wireless Internet Connections
Works with any Printer
Add any program
Watch Netflix's
CD/DVD Player/Recorder

Webcam with Skype
Full office suite with Word Processor included
10 Bonus Games
U.S. based Support

Maintenance free

6 Months Interest Free with PayPal Credit Checkout

I am very impressed and so grateful for the computing experience you have created for seniors. The price is worth every penny and then some! And the greatest value is in the thought and care you have put into configuring the system. You took Windows —a powerful operating system, yet with quite a few confusing features— and made it transparent." Kerwin, New Glarus, WI
Computers Designed Especially for
Seniors!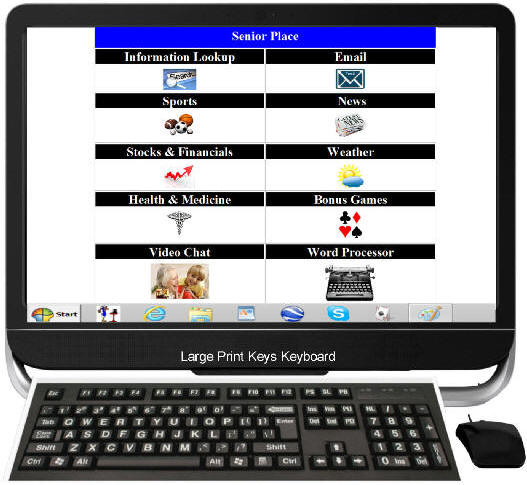 15.6" & 17.3" HD
Laptops for Seniors
Touch and non-Touch Screens available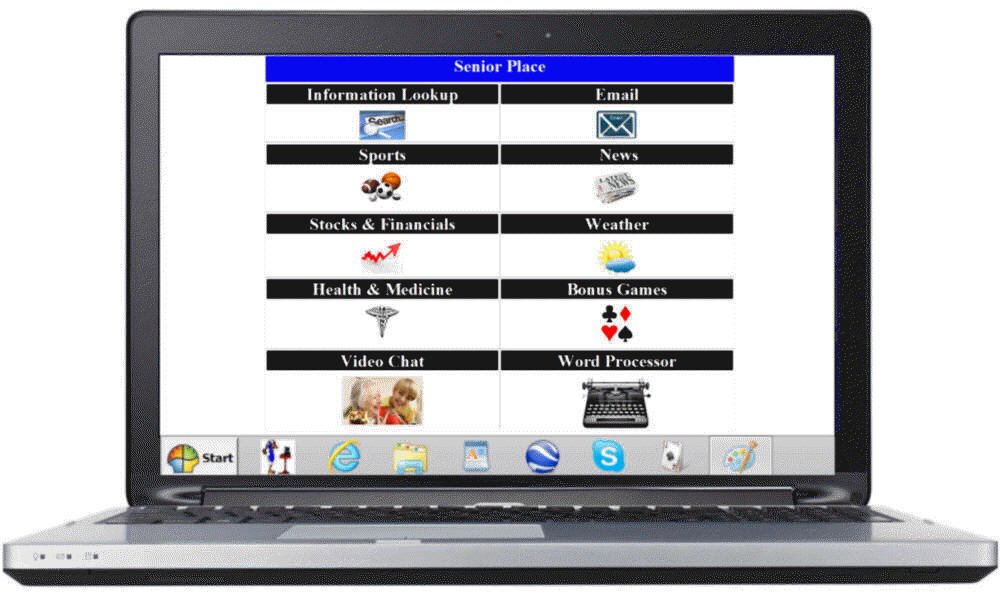 Tired of your old, worn-out, slow computer? A Plus computers are fast, efficient, self-maintaining computers that won't slow down or wear out. Plus included with
the purchase price you get free lifetime computer tune-ups to ensure you're
always running at tip-top performance.

Huge TV Sized 27" Non-touch Screen
Huge 27" HD Screen
$1599.00
The computer can be such a blessing for seniors, the right computer makes all the difference!
17.3" Laptop
Touch-Screen!
$1099.00
Gigantic 23" Desktop Touch-Screen!
$1299.00
Large 20" Desktop
Touch-Screen!
$999.00
Compared to the WOW and Telikin computer, the A Plus Computers' for seniors are twice as fast with double the memory, use a full screen for optimal viewing plus dozens of features you simply don't get with the other senior computers.
"Not much I can add to the fine reviews to which I fully agree only to say that the A Plus is not just for seniors but at the age of 95 I have had three computers prior to the A Plus and have finally been completely satisfied. I recommend it for all ages wholeheartedly. The Tech support, to put it mildly, is superb." Bob, Doylestown, Pa
Money Back
Guaranteed


Try the A Plus computer for seniors risk free for 30 days and if you're not completely satisfied, return it for a full refund