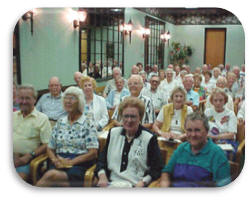 "Not much I can add to the fine reviews to which I fully agree only to say that the A Plus is not just for seniors but at the age of 95 I have had three computers prior to the A Plus and have finally been completely satisfied. I recommend it for all ages wholeheartedly. The support, to put it mildly, is superb."
Bob, Doylestown, Pa
"I am very impressed and so grateful for the computing experience you have created for seniors. The price is worth every penny and then some! And the greatest value is in the thought and care you have put into configuring the system...
This day was a day of joy for me as I watched Larry get more and more excited about the doors that the A Plus Computer has opened for him.
And he hasn't even tried your Signature Support yet. I'm betting he'll be delighted. My best wishes for success."
Kerwin, New Glarus, WI




"I tried a computer a couple of years back but my friend had one of your computers and loved it and now so do I. You did a great job on the design for us old folks, thank you."
John, San Antonio, TX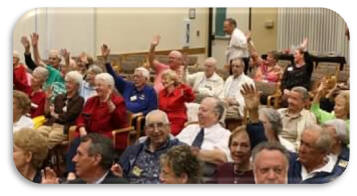 "I am so pleased with your documentation, the guide, the password chart and the ease of use of the computer. But the real difference is your wonderful customer service. Having worked in the technology field for most of my life, I know first hand how utterly important it is to have great support and your staff exemplifies that quality. I can tell you I will be glad to recommend your offering to anyone and everyone I know.
Thank you so much and a hats off to Dale for making such a difference.
Warm Regards,"
Karen, Santa Fe, NM
"At 84 my father is pretty set in his way, but I knew if I could get him an easy computer to use in assisted living it would open doors for him. He took to the A Plus 17" laptop immediately, I knew I had made the right decision. Your staff has been great and you have a real talent working with seniors."
Carol, Salt Lake City, UT

"I had WebTV and that needed to be replace. It was great to be able to keep my same Email and now I can surf the entire Internet and it's so fast. I'm very happy with my A Plus."
Henry, Anchorage, AK
Frequently Asked Questions
Q. Which model is best for you?
Desktop models offer a large screen and large print key keyboards, great for seniors with low vision. Larger screens also cut down on the amount of scrolling and with our all-in-one design eliminates most for a neat, clean look.
Touch-Screen models are helpful for seniors who have difficulty holding their hands steady or using a mouse.
Laptop models are compact and portable, great for seniors who like to travel around the world or to that favorite chair. Perfect for those with limited space..
A Plus Computers are full featured computers that start you off with the basics like easy Email, Internet, games and video chat. Fully protected and powered by Windows Classic (to give the look and feel of Windows 7), with all of the popular programs seniors like to use already installed and ready to go.
All models are completely setup and ready to go out of the box.
Great for sending to someone out of state as the setup is already done!
Q. What is Senior Place?
Senior Place is our exclusive one screen access to the Internet built right into the A Plus Computers. With Seniors Place beginners easily surf the Internet with easy to recognize icons to popular sites. It's a great way for seniors new to the Internet to quickly familiarize themselves with the Web.
Q. What operating system do you use?
We use the latest version of Windows that never expires that we reconfigure with the look and feel of the classic Windows 7 users have loved for the last 20 years. You get all the protection and security of the latest Windows, plus the look and feel seniors are familiar seeing and working with. Best of all it's made in the USA and never expires.
And because it's Windows (and not Linux), you'll be able to add any game, program, device, or printer you want. With Windows Classic Design each feature opens full screen, edge to edge for optimal viewing. Designed especially with seniors in mind it's easy to see, easy to use, maintenance free and fully protected so all you have to worry about is what to do next.
Q. Made in USA!
The configuration and all of the software used in the A Plus Computer is made right here in the USA, especially the anti-virus, anti-spyware, anti-malware as well as the operating system.
Q. Is the A Plus Computer safe?
The A Plus computer is the safest computers on the market today. We purposely use maintenance free anti-virus, anti-malware and state-of-the-art firewall encryption that never expires and completely protects your identity. The reason most people's protection fails is they forget to run or renew them. With the A Plus computer, that can't happen.
Q. Do you carry a tablet for seniors?
No, we've done extensive testing with seniors using tablets and have not had favorable results. A lot of seniors had difficulties holding the tablet and typing at the same time. The ones that can type did not do well with on-screen typing and of course the size is an issue for a lot of seniors. Tablets have much smaller screens so you have to scroll quite a bit to see a whole web page. Not being able to print is also a common issue. Laptop are a much better solution.
Q. Why an A Plus Computer?
Ever wonder why the big computer companies have never offered a computer for seniors? Because seniors grew up in a time when companies actually cared about customers after the sale. In today's penny pinching world businesses only care about cutting expenses and they do so mostly through service. We've all experienced the nightmare of calling support for a product or service only to get someone out of the country with a heavy accent you can hardly understand.
For seniors who like to be active in the information age A Plus Computer offers a better way. We configure brand new computers, designed especially for seniors that arrive completely setup and ready to go right out of the box. Our proprietary design neatly organizes the most common features in our exclusive Senior Place so you'll always know your way around. We offer exceptional support recognizing our senior customers deserve to do business with a company that treats them with respect, patience, and integrity and of course speak in plain simple English. Computers for senior is all we do and we're very proud of our success!
Q. Can I travel with the A Plus Computer?
Absolutely! The all-in-one compact design of our laptop models are perfect should you want to take it with you on a trip. It's great to be able to email friends and look up interesting "things to do" while on vacation. Most motels/hotels offer free wireless Internet access so your A Plus Computer will work exactly as it does at home.
Q. Is there a store to see the A Plus Computer in person?
A Plus Computers are sold direct to consumers exclusively through our website. Computers displayed in stores pay for that placement, per store, per computer. Store placement is not practical for specialty computers. Placement costs would have to be passed on to the consumer. It's the same reason you never see specialty computers for blind or handicapped in retail locations.
We gladly offer a 30-day money back guarantee that doesn't start until the day AFTER you receive your A Plus Computer as well as free shipping so you can try it in the comfort of your own home.
Q. Can I use my current Email address?
Yes, you can use any Email address. If you already have one you've been using you can continue to use it. In most cases your old Email and address book will transfer automatically for your new A Plus Computer just by signing in.
Q. Is there a printed manual?
Yes, we've included our fully illustrated "especially for seniors" guide that's an exact match for the A Plus Computer. Unlike generic "for dummies" books that have to fit all computer makes and models, our user guide is written exactly for our customized A Plus Computer so the pictures, illustrations and step-by-step instructions are a perfect match.
Q. Are laptops a good choice for Seniors?
A lot of seniors love the idea of taking a laptop to a favorite chair or on vacations. With free Internet available in most hotels your A Plus Computer will work exactly like it does at home. It's great to be able to stay in touch via Email or to look up fun "things to do" while you're visiting.
Laptops work on a battery or directly plugged in and does everything our desktop models do.
Q. Are there a lot of wires?
No, because they're all-in-one computers, they only require a wire for power (just like any appliance) and one for the easy-to-use mouse (included) and the keyboard on desktop models. You can use either a wired or wireless connection for the Internet on all models.
Q. Do I need high speed Internet?
Just like for phone and cable TV service, you will need Internet service. Internet service is available from the same company that you get your phone and/or cable TV service from. Most providers offer a discount when you add Internet service.
Q. Can I use Verizon or ATT wireless (hotspot) service?
Yes, any wireless service (even from local companies) will work with your A Plus Computer.
Q. What if I decide it's not for me?
Try it risk free for 30 days, if you are not completely satisfied with your A Plus Computer, return it for a full refund. Your 30 days starts the day AFTER you receive the computer.
*Highly Recommended - Our signature support with lifetime warranty for only $19.95 per month is valid only at the time of purchase (or within 30 days of date of purchase) of the A Plus Computer. Support includes unlimited phone, remote and Email support. Limited lifetime warranty requires on-going monthly service plan and excludes abnormal wear and tear, neglect, or incidental damages as determined by A Plus Senior Computer, Inc. Monthly service plan price of $19.95 is guaranteed for the original owner and is non-transferable. High-speed internet connection is required. Customer responsible for cost and safe return of product. This warranty gives you specific legal rights, and you may also have other rights which vary from state to state, and some states do not allow the limitation of consequential or incidental damages so that some limits may not apply to you.
All Computers include a one year hardware only warranty included in the purchase price.
Need Help? Contact us at:
1-800-876-4226 or info@aplusseniorcomputer.com
Copyright © 1998-2018 A Plus Senior Computer All rights reserved